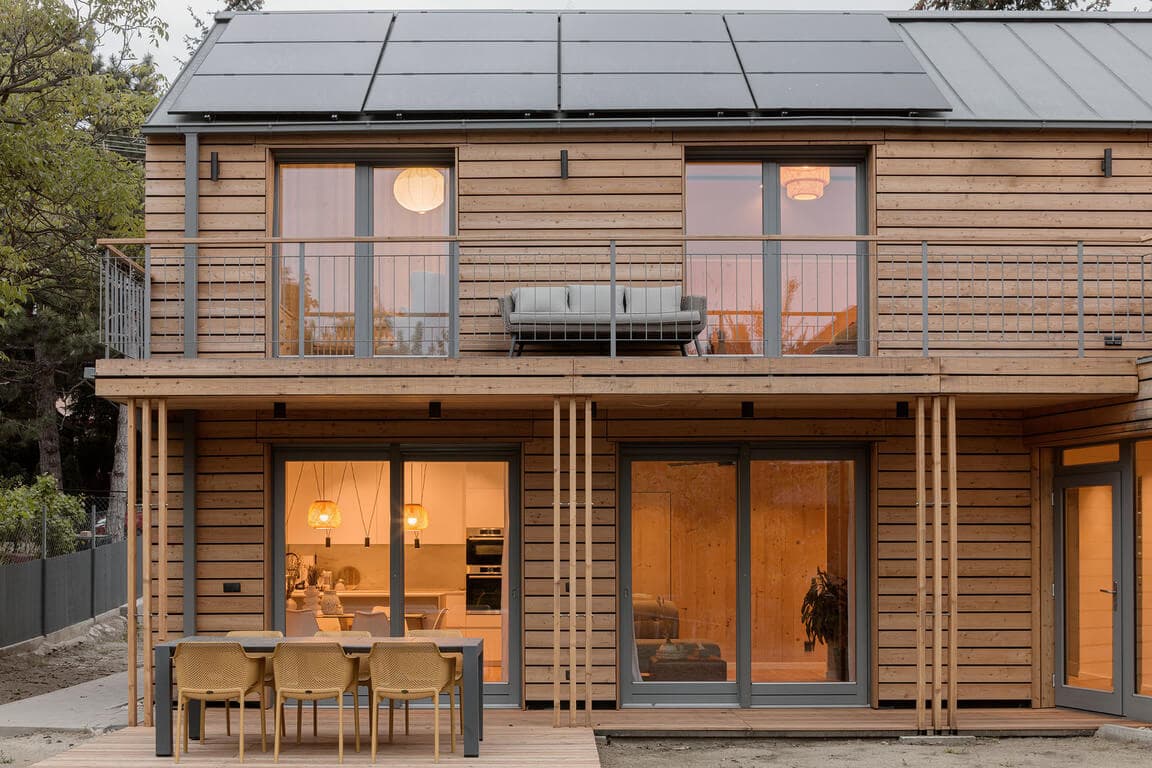 Our Involvement
Developer (Stage 0-7): Design & Build / Sustainability
Equinox Team
Bálint Bakos, Máté Molnár, Tibor Homlok, András Bancsó, Noémi Bakos, Balázs Fürtön, Bayan Nasri, László Kubanek, Károly Svoboda, Pál Kosik, Adrienn Simonics
Júlia is designed and developed by Equinox as the Architect & Developer. This duplex is located in Diósd, in the suburbs of Budapest, 20 min drive from the city centre yet surrounded by nature.
The building form and orientation were shaped by the local climate and the aspiration to provide two well-proportioned private courtyards for the residents. The result is a Z-shape of two volumes connected via a central entrance zone, providing pleasant gardens, views and comfortable, bright spaces. Key themes of wellbeing, sustainability, functionality and aesthetics underpin everything, from the design to the materials chosen.
The project is designed and built with high quality natural materials for improved health & wellbeing of the occupant and the environment. As all our projects, it aims to thrive change and state an example for truly sustainable buildings, becoming a frontrunner on the Hungarian market.
To achieve our goal of zero whole-life carbon emissions, timber is the most used material in this project. The structure is made of cross-laminated timber (CLT), and also the façade cladding, window frames, flooring and built-in furniture are made of timber procured from sustainably forested sources. Assuming the reuse of the components at the end of the building´s life allows us to account for the biogenic carbon stored by the wooden elements, thus reducing the carbon footprint of this project significantly.
To insulate the building with environmentally-friendly products, cellulose was chosen as main insulation. Cellulose has the highest recycled content of any insulation available, being composed of 75-85% recycled paper fibre, usually post-consumer waste newsprint. The use of cellulose in this project saves 48 tCO2e compared to XPS, which equals 8700 homes' electricity use for one year (EPA).
The two buildings are composed as individually functioning units, each comprising 140m2 sophisticated, bright and well-designed spaces allocated over 2 storeys: 4 bedrooms, 3 bathrooms, a spacious kitchen-dining-living area and lots of integrated storage space.
All rooms have direct outdoor access, either via terraces to the private garden or to balconies offering nice views. Our level of contact with the natural environment is an important factor for our wellbeing, concentration and cognitive functioning, as research proved. This idea of biophilic design was incorporated in the composition of Júlia, providing pleasant spaces surrounded by green.
Furthermore, Júlia is designed to ensure highest thermal, visual and acoustic comfort, for example balancing quality & quantity of daylight with protection from excessive solar gains to avoid overheating during summer.
Another important factor for our wellbeing is indoor air quality, as we spend 90% of our lives indoors. Natural ventilation allows for fresh air supply and non-toxic, VOC-free or low-VOC indoor materials mitigate the propagation of indoor air contaminants. The dry construction of the building envelope (timber as main material instead of concrete or bricks/mortar) maintains a controlled humidity rate which is comfortable to occupants yet inhibiting the growth of moulds or other pollutants.
Energy efficient and smart technologies optimise energy supply and minimise related costs. These include:
PV using renewable solar energy to provide electricity,
2x2 parking spaces including charging station for your electric vehicle,
Air-water heat pump optimising heating system and hot water generation,
External roller blinds with WIFI sensors for easy control via smart phone app,
The option to collect rainwater and use it for irrigation,
The option to access groundwater via boreholes and use it for toilet flushing.
More info can be found in the sales brochure under this link.