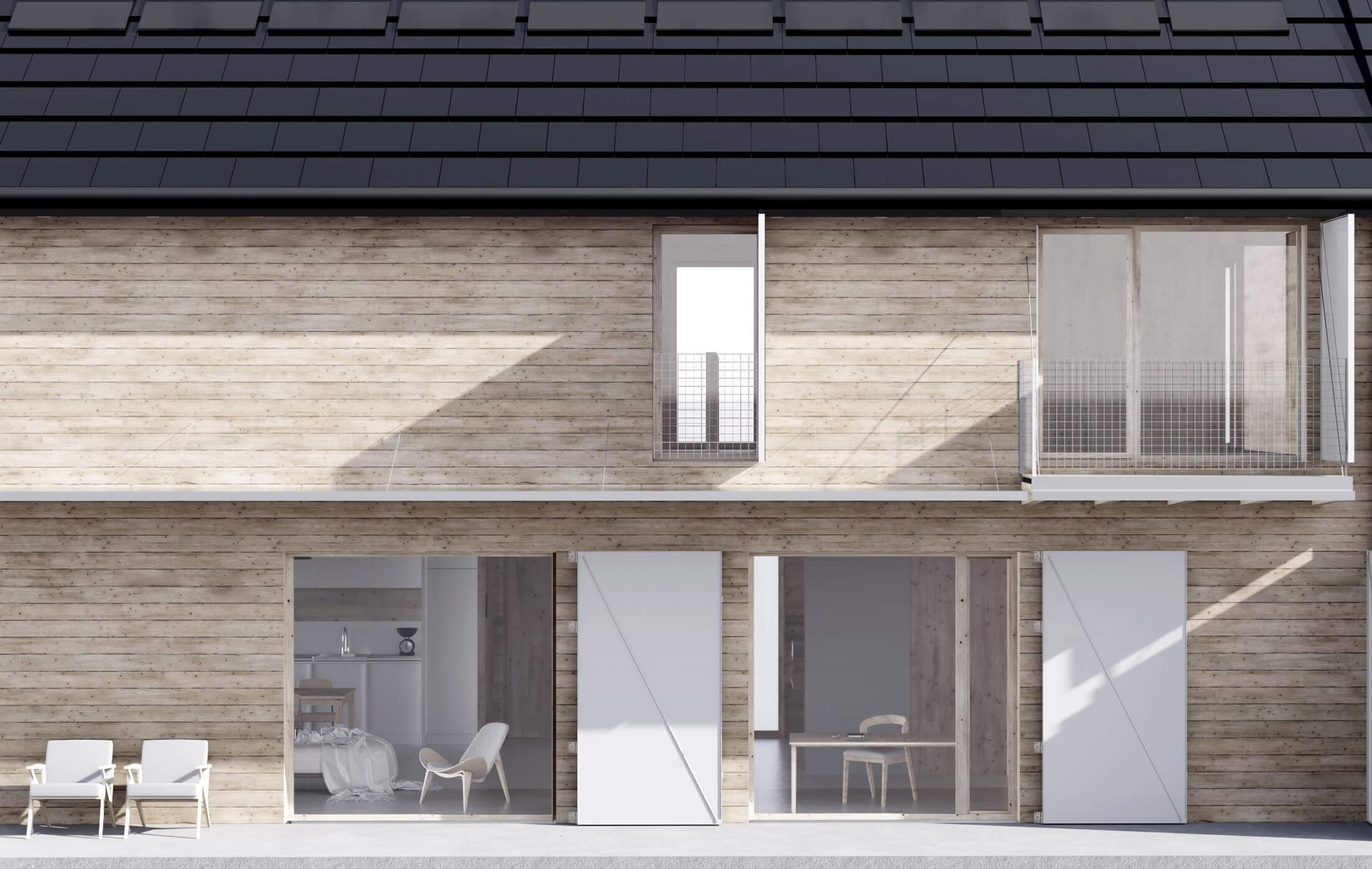 Our Involvement
Developer (Stage 0-7): Design & Build / Sustainability
Equinox Team
Lilla Lapinskas, Máté Molnár, Tibor Homlok, András Bancsó, Bálint Bakos, Csongor Nyíri, Bayan Nasri, László Kubanek, Pál Kosik, Sándor Ablonci, Sándor Ablonci Jr., Szabolcs Ablonci, Adrienn Simonics
In an assorted urban and architectural context, the objective of this Equinox development project was to craft a serene, well-balanced structure that mitigates the disruptive urban visual impact of the locale. The building emulates the classical proportions, dimensions, section depths, and roof styles of rural homes, employing a natural material palette. This intended structure comprises two elongated units, accessed from the northern side.
In order to minimise the environmental impact of the project and achieve a negative carbon footprint while applying circular economy thinking, we have further developed our EquinoxTM-System and not only created the super-structure out of CLT, but also replaced concrete foundations with earth screws, allowing for complete disassembly of the building at the end of its life-cycle. Throughout a 60-year life cycle of the building, this results in a negative carbon footprint of -23514 kgCO2e (150 kgCO2e/m2). Even though the associated embodied carbon (A1-A5, B1-B5, C1-C4) is 40380 kgCO2e (258 kgCO2e/m2), the total results are negative thanks to the biogenic carbon storing 63894 kgCO2e (408 kgCO2e/m2). The Life Cycle Analysis (LCA) was conducted using One Click LCA.
The integration of climate-responsive strategies profoundly shaped the design process and outcome. Meticulous climate analyses, including solar exposure and thermal simulations, guided the placement of adjustable and fixed louvers on the facades. These louvers are rooted in the realisation that the building's southwestern orientation, due to optimal plot utilisation, isn't favourable climatically. Angular sunlight from eastern and western directions considerably heats the interior during mornings and afternoons, which requires additional shading elements to the suspended canopy. Therefore, vertical shading devices filter out unwanted sunlight from the east and west. Moreover, their pale surfaces illuminate interiors without generating heat. The ground floor louvers, comprising two panels, provide full shading during intense heat. To stay comfortable, it's recommended to shade only the radiation-exposed facade, allowing pleasant use of cooler spaces or the terrace. For instance, even with full afternoon shading on the southwest facade, the southeast terrace remains sunlit. This sustains connectivity between the living room, kitchen, dining area, and shaded garden portion, enabling optimal usage while being close to nature.
In winter, the passive design strategy entails maximising solar heat ingress by placing louvers along the facade to avoid obstructing sunlight. Low-angle winter sunlight isn't hindered by the fixed canopy anymore. The louver operation is manual and intuitive. A suspended canopy over the terrace screens summer sunlight, and both canopy and louvers contribute to the house's character as well as its climatic function.
Sustainable architecture involves revitalising successful vernacular and passive climate-based methods. In past vernacular architecture, tailored construction ensured insulation, shading, and ventilation. Louvers have a rich tradition in Hungarian architecture, dating back to the Árpád era, where wood was the primary material. Louvers were pivotal in shading and temperature control. Despite dwindling use due to urbanisation, modern sustainable interests are reigniting attention towards louvers.
Our design objective was to modernise previous architectural solutions while integrating contemporary technologies, materials, and design, with a focus on climate protection and energy efficiency.